| | |
| --- | --- |
| A Clockwork Tomato | 01-10-2004 10:46 PM |
ACT 36: BATTLE OF THE WASTELAND
This is the tenth episode in my very own fan-fiction Season 3 of BIG O.

The series starts with:
Act 27: Life Goes On and continues with
Act 28: Returning to the Dead ,
Act 29: The Master Criminal,
Act 30: Dori, Dorothy,
Act 31: The Underground Error,
Act 32: Materia Medica,
Act 33: Heaven's Day Mayhem,
Act 34: Memories of Days Gone By.,
Act 35:Grand Theft Android

-- A Clockwork Tomato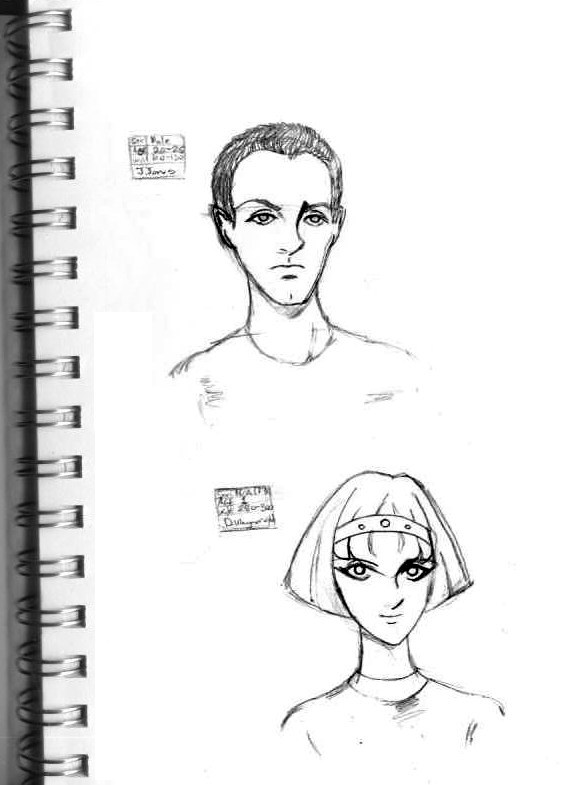 Officer Garza's sketch of the suspect (top) and victim (bottom) [by Falcon 7]
Dori woke up in the back of the van. She had only been unconscious for three minutes. That was another advantage of being an android – you didn't need to wear a watch. She looked around. Ted, the Rapid Tool delivery man, was lying next to her, unconscious. She could hear his breathing; it sounded normal. That was a relief.
Her wrists were fastened together. She glanced down and saw that they were bound with ordinary handcuffs. Good. Her kidnapers didn't really know much about her. Her legs were free.
She had discussed this contingency at length with Beck. After all, Dorothy had been kidnapped several times. Beck disapproved of Dorothy's behavior under such circumstances. Dorothy was disapproving and uncooperative, which meant that her kidnappers stayed on their toes and, at best, didn't cut her any slack. At worst, Dorothy's disdain made them want to hurt her.
Dori's instructions were to be adorable and cooperative and non-threatening – and to make a break for it the instant she had the chance. Every second she delayed, the kidnappers were closer to home and were more in control of events. But she worried about Ted. Leaving an unconscious Ted alone with furious kidnappers would be wrong. The Rapid Tool van was very distinctive. Surely they would switch vehicles soon. She'd have another chance after they switched.
She sat up and moved towards the front of the van. She stuck her head between the two bucket seats and said, "That wasn't very nice."
Both men jumped. Jones, behind the wheel, almost lost control of the van. The other man brandished the electric cattle prod at her. Dori gazed levelly at him, and after a moment he lowered it and relaxed slightly.
"It's good to see that you are undamaged, Miss Wayneright," said Jones.
"Mostly undamaged," corrected Dori, who in fact had only some scorching on her skin to complain about. But it wasn't a lie. "You
are
going to leave Ted behind when you change vehicles, aren't you?"
Jones sneered, "You're supposed to say, 'You'll never get away with this.'"
"No," said Dori. "That's after you tell me your nefarious plan. Ted has a wife and two kids. He's nice."
"He's seen my face."
"Lots of people at Hangar B saw your face." Dori didn't mention the man in the passenger seat, and neither did Jones.
"What are you offering in return?" asked Jones.
"Your humanity," said Dori seriously.
Jones went through a brief internal struggle, some of which was visible on his face. Rage, amusement, anguish, and annoyance vied for first place. In the end, he settled for a neutral expression. After a minute or two, he pulled the van into an alley and switched off the engine.
"Time to switch vehicles," he announced. "Throw one of those moving pads over your friend, Miss Wayneright, and come with us."
Dori spent a moment making Ted comfortable and covered him with a quilted moving blanket used to cushion large parts. Her handcuffs were something of a nuisance. Then she obediently got out of the van – what with the short winter days, it was almost dark outside already -- and into the back seat of a nondescript car that was parked further down the alley. Once again, both men sat in front.
She could burst the handcuffs and leave the car at any moment, even when it was traveling at moderate speeds. But not until she was further away from Ted.
* * *
Tony sought out Beck, who was in his office, pacing back and forth behind his desk, which was littered with books and papers. He looked as Tony entered. "Well?" he snapped.
"Mr. Beck, have you seen Dori?"
"No."
"Only, she left me to take a delivery twenty minutes ago and said she'd be right back. I checked at the receiving bay, and she went out with a Rapid Tool man, but didn't come back in. Not through that door, anyway. The delivery van is gone."
"Was it Ted?"
"No, somebody I didn't recognize."
Beck sagged. His face lost all expression; for a moment he looked like a puppet whose strings had been cut. Then he recovered. He seemed to swell with purpose. He picked up the phone. "Betty, tell everybody it's quitting time. Down tools and go the hell home. Except the guys in shipping and receiving; I need to have a word with them first. And tell Security to look sharp; bad things are happening." He slammed down the receiver.
He held still for a moment, then took a deep breath and let it out slowly, like someone nerving himself up for a painful ordeal. Beck held his watch up to his face and said, quietly, "Dorothy."
Tony edged out of the room.
* * *
Continued in Part 2