| | |
| --- | --- |
| A Clockwork Tomato | 01-03-2004 11:28 PM |
ACT 35: GRAND THEFT ANDROID
This is the ninth episode in my very own fan-fiction Season 3 of BIG O.

The series starts with:
Act 27: Life Goes On and continues with
Act 28: Returning to the Dead ,
Act 29: The Master Criminal,
Act 30: Dori, Dorothy,
Act 31: The Underground Error,
Act 32: Materia Medica,
Act 33: Heaven's Day Mayhem,
Act 34: Memories of Days Gone By.

-- A Clockwork Tomato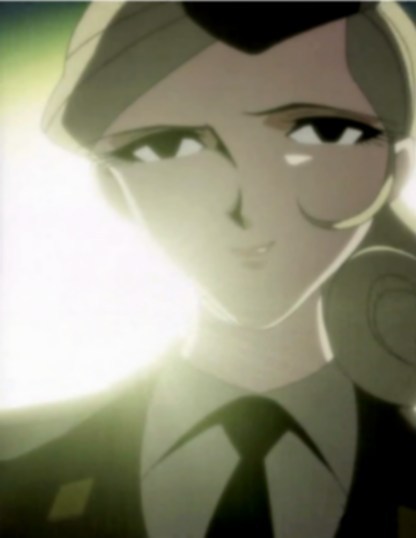 Dastun walked briskly into the kitchen. He smiled. "Good morning, Dorothy. Morning, Norman."
"Good morning, General," said Norman. "I trust you slept well."
Dastun reddened slightly but said, "Pretty well, thanks." He was staying in Smith Manor temporarily, while he reconsidered his housing options, and he had a room across from Angel's. Everyone knew they were sleeping together; he was still felt a little awkward about this. Innocent small talk could make him blush. Besides, he suspected Norman was doing it on purpose.
Dorothy handed him a tray with a silver coffee service and two mugs. "Good morning, Dan," she said.
Dastun said, "Before I forget, Dorothy, are you busy this morning?"
"Not really. Why?"
"I have a lead on some of your father's stuff, and I was wondering if you could help me identify it. You'd probably be back here around ten or eleven."
"Yes, I can go with you."
"Thanks. Sorenson will be here at eight."
"I'll be ready."
Dastun took the tray to Angel's room. She was asleep, curled up in the middle of the king-sized bed. She was so adorable when sleeping that he just stood there for a minute, smiling softly, before setting the tray down on the bedside table. Then he passed a hand under the pillows. Sometimes she slept with her pistol under her pillow, a ghastly habit for someone who slept heavily and sometimes woke wild-eyed and disoriented. It wasn't there this morning.
Last night, they'd started out in his room, as usual, but his snores always drove her away during the night. He'd wondered if there was a cure for snoring, but Angel was the most amazing blanket hog, so his snores were probably the only thing that kept him from freezing to death.
He opened the curtains. Light flooded the beautifully furnished bedroom, highlighting Angel's golden hair and what showed of her pink silk pajamas. Dastun reached an arm under the covers and found one of her feet, which he tickled gently. Angel twitched her foot away. He repeated the process with the other foot. She muttered something and rolled over.
"Time to wake up, Angel," he said. Angel curled up into a ball. Dastun continued, "I brought coffee." He put three sugar cubes into a mug and sloshed in some cream, then poured the coffee. A lifetime spent in the Military Police had taught him not to expect a clean spoon to stir coffee with, so the cream and sugar went in first, in the hope that sloshing in the coffee would stir it up. Not that this was a problem today. Dastun picked up the mirror-bright silver spoon from the snowy linen napkin and stirred. The tinkling noise seemed to reach something deep within Angel, and she moved towards his edge of the bed, eyes still closed.
"Sit up," encouraged Dastun. "That's right." She sat at the edge of the bed, bare feet on the carpet, and he placed the mug in her hands. Still with her eyes closed, she took her first sip.
Soon her eyes were open, and when he refilled her cup, she said, "You get up before I do and bring me
coffee!
I think I love you."
Dastun tried to say, "I think I love you, too," but nothing happened. Well, he was getting close.
* * *
The New Dominus was talking on the phone to one of his underworld contacts in the city.
"That's right, just snatch Smith's android girlfriend. It's probably safest to do it when she's with Smith, in town. Bump him off first, then grab her. Then you won't have to worry about Big O. Do it when they're away from home. That's right. Don't hurt her. She won't be able to hurt you; she's an android. Shoot Smith and the rest should be easy. That's right. Half a million for killing Smith, half a million for the android. Right."
He hung up.
* * *
Continued in Part 2