| | |
| --- | --- |
| A Clockwork Tomato | 12-07-2003 12:05 AM |
ACT 31: THE UNDERGROUND ERROR

By A Clockwork Tomato
This is the fifth episode in my very own Season 3 of Big O.

The series starts with:
Act 27: Life Goes On and continues with
Act 28: Returning to the Dead ,
Act 29: The Master Criminal, and
Act 30: Dori, Dorothy.
-- A CLOCKWORK TOMATO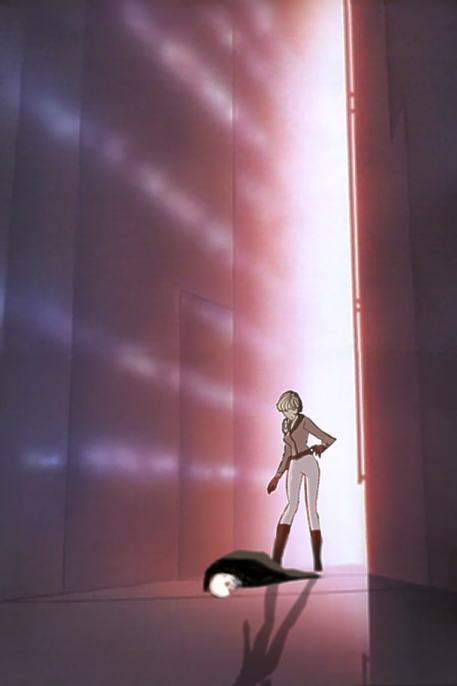 A little before midnight, the two criminals met in a corner booth of the bar. The music was so loud that there was no chance of their being overheard.
"One of my boys has been given guard duty at the Foster place from midnight to six AM tomorrow night," said the first crook. He was fat and middle-aged, but seemed hard, somehow. "Some of the staff comes on duty around five, so we can have four, maybe five hours. It looks like all five million are still in the safe."
"Any luck with the combination?" asked the other crook, a skinny old guy who had lost two fingers from his right hand.
"Nothing. I don't think we can open it without Beck."
"Has he really gone straight?"
"He's hanging out with General Dastun and Roger Smith. He's either gone straight or is playing such a deep game that his share of the loot won't tempt him."
"But he's opened that safe once before! They say it only took him fifteen minutes. Five million, for god's sake! How can anyone go straight when there's that kind of money to be made!"
"Well, it's not like we've asked him."
"Screw asking him. Let's see if we can't nab him tomorrow and
make
him open the damned safe. He can take his share and keep his mouth shut or he can sleep with the fishes. That's the way to deal with Beck. If he's in, he's in. He's a pro. But if he isn't in, we can't leave him alive to shoot his mouth off. He'll come around once he sees he doesn't have a choice."
* * *
Dorothy arrived at the kitchen first, at 6:55 AM, as she always did. She ground some coffee beans and put on a pot of coffee. Then she set the kitchen table for five.
Norman came through the door at the stroke of seven, as alert and tidy as Dorothy herself. "Good morning, Dorothy!" he said cheerfully.
"Good morning, Norman," she replied calmly.
The kitchen was Norman's domain, and the rules were different here than in Roger's part of the house. In the kitchen, "Miss Dorothy" became simply "Dorothy." The same was true for Angel and Dori. Roger, however, was always "Master Roger," Beck was always "Mr. Beck," and Dastun was always "General." Of the three, only Beck had tried to get Norman to use his first name, but Norman did not approve of him sufficiently to do so.
Angel drifted in as Norman started making suggestions about the morning meal. As usual, she wore pink silk pajamas and a pink robe. She was barefoot. She shuffled over to the coffee pot and stared at it blearily, willing it to finish brewing.
"Good morning, Angel," said Dorothy, getting out a mug.
"Ungh," said Angel.
Beck burst into the room with Dori. He had just arrived. Dori often took a cab to the mansion in the middle of the night, to be with Dorothy while everyone else was asleep. Beck retrieved her at the morning, and was gone before Roger awoke. Beck and Roger still didn't get along. "Good morning, my fine feathered friends!" he said in a loud, cheerful voice. Angel winced. "And what are we having today?" He took off his suit coat and exchanged it for an apron.
Dori hugged Dorothy, Norman, and Angel in turn. To Angel she said, "Wake up, sleepyhead."
"Coffee," said Angel.
Dorothy filled Angel's cup, added three spoons of sugar and a dash of cream, and passed it over. Angel slumped into her place at the table.
Beck was arguing over the menu with Norman. After a moment Norman capitulated, smiling, and allowed Dori to lead him to his place at the table. Beck grinned and started barking orders to everyone but Norman. Angel glared at him but did not move, as usual, so preparation was down to Beck and the Wayneright sisters. Norman's rule was that, if you ate in his kitchen, you had to help. He and Angel would do most of the washing up. No one wanted Angel's help before her third cup of coffee, and Beck and Norman couldn't both cook at the same time. Their methods, styles, and wills clashed.
The enormous kitchen had plenty of room for three people to work at once. In no time ham, eggs, toast, sausages, fruit, oatmeal, juice, hash browns, pancakes, and bacon were being prepared. Norman preferred fancier dishes, while Beck preferred simpler fare. He was an excellent cook, though, having learned in his teens as a front for his crimes. Working at hotels, always willing to work evenings, deliver room service, or work catering jobs, he had ample opportunity to case the jewelry and homes of Paradigm's wealthiest citizens. At private parties, he would not only cook, but would helpfully take a tray of drinks or hors d'oeuvres out when one of the waiters wanted to sneak out back for a smoke. With a tray in his hands, he was invisible, and could generally case the entire house. He had located many a concealed safe in this way.
Breakfast was his favorite meal, though obviously it had been more lucrative for him to be the late-night room-service chef or an under-cook at a fancy party.
Beck had a soft spot for cooking and a certain nostalgia for his early career as a jewel thief and safecracker, before he turned to more technically demanding work. He was also trying – too hard, really – to charm Norman.
There was quite a bit of talk throughout. Dorothy was almost silent, but Angel perked up after her second cup of coffee and started throwing barbs at Beck, who gave as good as he got. About half the time they addressed their comments to Dori, who generally agreed with whatever they said to her.
"I feel sorry for you," Angel told her. "I really do. Beck is such a pig."
"I like pigs," said Dori.
"And he has no manners."
"I've noticed that," said Dori.
"I was a perfect gentleman until I met Angel," said Beck.
"Perfect gentleman?" asked Angel incredulously. "Did he ever tell you how we met?"
"No," said Dori.
"I was minding my own business, having dinner at a restaurant …"
"Drinking in a bar," Beck corrected.
"Having dinner,"
Angel said emphatically,
"at a restaurant
, when this madman in a yellow suit and a blond girlie wig …"
"Hey!" objected Beck.
"That's what it looked like. When this chromium yellow
apparition
bursts into the room, dives under my table, and makes shushing noises like a steam whistle. Then two thugs with drawn pistols come into the room and started looking around. I didn't like the looks of the thugs, so I kept eating as if nothing was happening. But you know how excitable Beck is in a crisis. He can't keep quiet. He starts asking me questions about what the thugs are doing and saying things about my legs and asking me if I had a boyfriend. I had to keep kicking him to shut him up!"
"They really are great legs," said Beck.
"It was quiet in there, and he keeps yammering on as if he doesn't have a care in the world. I was wearing open-toed shoes and I nearly broke my foot keeping him quiet! Finally the thugs leave and Beck pops out from under the table like a jack-in-the-box and propositions me on the spot! I was so angry I would have screamed if I hadn't been laughing so hard."
There was a pause, then Dori asked, "Is there a moral to this story?"
Angel nodded emphatically, "Avoid open-toed footwear."
They sat down to eat. Beck merely picked at his food. He always tried to come across as cool and confident, but he had a nervous temperament and often ate almost nothing for days at a stretch. Dori and Dorothy, who as androids did not, of course, have to eat at all, ate more than he did. Angel ate like a horse, as usual. Only Norman's appetite had nothing noteworthy about it.
After breakfast, Dori and Beck departed. Angel, Dorothy, and Norman washed up. Angel kept up a stream of conversation with Norman, mostly about trivia, since Norman was very close-mouthed about Big O and Roger's negotiating work, and nothing about buttling could hold Angel's attention. However, Norman was an incurable gossip where people outside the household were concerned (though it was amazing how genteel and dignified he could make gossip seem).
"What's on the schedule today?" asked Dorothy.
Before Norman could answer, the telephone rang. Norman picked it up, "Smith residence." He listened for a moment. "One moment, please, sir."
He put a hand over the telephone receiver and asked Angel, "Are you at home to a Mr. Worthington?"
Angel nodded and reached for the receiver. "Hello, Murray? What's up?" She listened for a moment and said, "I'll meet you in half an hour. Bye, Murray." She hung up. Noticing Norman's and Dorothy's neutral expressions, she said, "Business. It's probably nothing, but I ought to follow it up. I'll probably be back in time for lunch." With that, she left the kitchen and headed for her room.
When she had gone, Dorothy repeated, "What's on the schedule for today?"
"There is some track damage on one of the spur lines. The power has been interrupted. Probably another broken rail. Master Roger should be up by ten this morning. And no doubt there are household chores to be done."
"Not many. Dori and I have polished off most of the list."
"I wonder if that girl realizes what a help she is to me," said Norman, smiling.
"She likes to stay busy."
Norman surveyed the kitchen. It was spotless. "Well, Dorothy, we'll want coveralls, helmets, and gloves. Shall we meet at the Prairie Dog in ten minutes?"
"All right."
* * *
Continued in Part 2