| | |
| --- | --- |
| A Clockwork Tomato | 11-29-2003 10:25 AM |
This is the fourth episode in my very own Season 3 of Big O.

The series starts with:
Act 27: Life Goes On and continues with
Act 28: Returning to the Dead and
Act 29: The Master Criminal.

-- A CLOCKWORK TOMATO
ACT 30
DORI, DOROTHY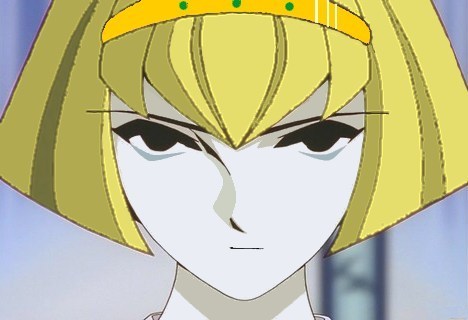 Roger knotted his tie, put on his suit coat, and drew on his black gloves. He checked his appearance in the mirror; he was ready for the new day. He walked out of his bedroom.
Dorothy was waiting for him in the penthouse.
"Hello, Dorothy," he said. "I didn't see you at breakfast."
"I wasn't fit company," said Dorothy. They embraced briefly. She was upset about something. "Good morning, Roger. I have important news."
"Tell me, then."
Dorothy led him to a couch and sat down next to him.
"I have a sister. Another R. Dorothy Wayneright. She called me on the telephone last night."
"I see," said Roger. Dorothy had been leaving no stone unturned in her quest for the content's of Timothy Wayneright's lab, which she believed had contained at least one other R. Dorothy Wayneright, fully assembled and nearly ready to be awakened. "Is she okay?"
"She seemed fine," said Dorothy. "I was relieved. Few people know how to awaken an android properly. Errors can cause terrible damage. But Dori seems to have been very fortunate."
"Dori?"
"That's what she's calling herself."
Roger asked, "So where is she? And who is her, what … father? Creator?"
"Lover," said Dorothy.
"What? That's disgusting!"
"Dori says 'boyfriend,' which is sort of sweet, don't you think?" continued Dorothy, ignoring this, "But 'lover' is what she means."
"But," protested Roger, "she's like a child, isn't she?"
"Not in that way. Her body is the same as mine."
"But," said Roger again. He groped for a way of expressing his feeling that what Dorothy was describing was wrong.
Uncharacteristically, Dorothy didn't wait for him to marshal his thoughts, but kept on going. "Roger, there are three basic reasons why someone awakens an android. To be a child, a lover, or a tool. I was awakened to be a child. R. D. was awakened to be a tool. Dori was awakened to be a lover. She may have been dealt a better hand than her sisters."
"Why?" asked Roger.
"An adolescent android is very emotionally dependent on her awakener. Ideally, it should be someone who is supportive, someone who is kind. R. D. fell into the hands of a maniac. With me, father was … father was … I had to … I …" she stopped for a moment, then started again, speaking slowly. "It is very hard for me to … to … criticize … Father," she said.
Roger nodded. "Try to say it indirectly, or hypothetically," he suggested.
Dorothy closed her eyes, paused a moment, and then spoke. "Suppose there was a man named John Doe, whose daughter Jane had died. Mr. Doe could create androids. He wanted an android copy of his daughter. But he didn't the core memory technology; he could only make duplicates of old patterns. Mr. Doe could add some memories, but memory and personality are not the same. He could not alter the personality of an android directly." She looked at Roger.
Roger nodded.
"Androids will love, trust, and wish to please the person who awakens them. This always happens -- it's part of growing up. Mr. Doe could not alter Jane's personality, but he could make it clear to Jane that he wanted her to act the role of his dead daughter. All the time. That was her purpose. Not to … to be … to be … herself."
She looked up at Roger, who nodded encouragingly.
Dorothy went on, "And this was … it was … Jane … she felt … she …" Dorothy closed her eyes again. There was a long pause. Then, "I think I've said as much as I can."
Roger squeezed her hand. He loved her hands, even though they didn't feel quite human. Or maybe because they didn't. "I understand. Tell me, was Jane happy?"
"She was happy and … and … at the same time," said Dorothy. "Outside his … his …, Mr. Doe was kind. He was a very interesting man. And he loved Jane. His … he … he had a kind of double vision. Craftsmen love their creations. It's very human to want your creations to love you back. He loved android technology and would happily talk shop to Jane, while at the same time … at the same time … insisting …"
Roger said, "You had to pretend that you were his daughter helping out in the lab."
"Jane! We are talking about Jane. I can't discuss this at all if we talk about me."
"Sorry."
Dorothy remained silent for a long moment. "Enough about Jane. Dori's boyfriend transferred most of her conditioning from Father to himself, so she would not be crippled with grief when she was awakened. That was my greatest fear. So far, so good. But the next step is also crucial. If Dori's boyfriend wants Dori to be Dori, then she will emerge from the experience unscarred. Though if the two of them are very incompatible, she will eventually leave him."
"She can do that?"
"Oh, yes. The early conditioning fades. But not right away. An adolescent android is very dependent. It will be months, at least, before she could be separated from him."
Roger considered this. "So we're stuck, aren't we?"
"Not entirely. We can talk to her boyfriend. He could do a lot of damage by accident, especially if he follows …" she paused for a moment, then said, very slowly and distinctly, "certain materials that are likely to be found with Father's papers."
"Because your father wrote them himself."
She didn't answer, which was answer enough.
Roger asked, "So what do we know about Dori's boyfriend?"
"Dori wouldn't tell me anything about him. He told her not to reveal anything about himself to anyone."
"That sounds ominous."
"She called me when he was asleep. He doesn't know."
"That sounds ominous, too. I don't suppose it could be your good friend Tony?"
"No, he would have asked for help. He loves androids but doesn't really know much about them."
"Will Dori be calling you again?"
"Tonight, I think. Roger, you must find her! I need to talk to her, and to her boyfriend. The initial stages have gone very well, but she isn't safe yet. Her mind is still at risk."
Roger hugged her. "I'll get right to work."
* * *
Continued in Part 2