| | |
| --- | --- |
| A Clockwork Tomato | 11-22-2003 07:22 PM |

This is the third episode of my very own Big O Third Season, which started with ACT 27, "Life Goes On,".

-- A Clockwork Tomato
ACT 29

THE MASTER CRIMINAL

By A CLOCKWORK TOMATO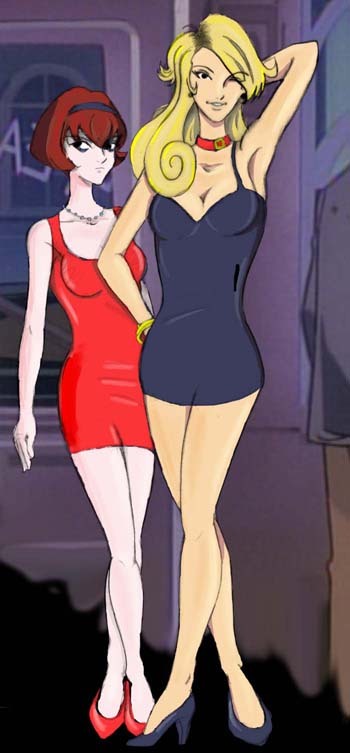 Around noon, Angel stamped into the penthouse, seething with frustration. Dorothy switched off the vacuum cleaner, silently mixed her a drink, and handed it to her.
"I'm so angry I could scream!" said Angel as she kicked off her high heels. She was wearing one of what Roger had taken to calling her "bimbo uniforms" after she had made a comment about his "mortician suits."
Angel paced back and forth, setting her drink down untasted and groping in her purse for cigarettes. "It's all so aggravating! Do you mind if I smoke?"
"I can hardly smell it, but Norman doesn't like smoking in the penthouse."
Angel restlessly stuffed the pack of cigarettes back into her purse. Then she looked Dorothy over. Dorothy looked back, standing perfectly calm, perfectly poised. Angel sighed, "You aren't going to ask, are you?"
"No."
Angel laughed humorlessly "All right, since you twisted my arm, I'll tell you. Beck is back in town. Boy, is he back. You know those two bank robberies that were pulled off last week? Both of them were Beck! And they took place less than ten hours apart! He did a really fancy safecracking job during the night, bypassing all sorts of security and opening the main vault without a peep from the alarm system. Then the next morning he walks into another bank as cool as a cucumber and pulls off a really lucrative `everybody-on-the-floor' kind of heist all by himself!"
"But why are you so angry?" asked Dorothy.
"It gets worse," said Angel. "The worst thing is, he's joined the Union! Or," she corrected herself, "he pretends he has. He's their new robotics genius. He
must
be planning on selling them down the river, he doesn't believe in any of their stuff, but in the meantime they're treating him like a king. He's impressed them."
Dorothy said, "They must not get out much."
"No, they don't. This is driving me crazy! It's not just that he's with the Union, but he's given them hope. I had one of their top guys all primed and ready to start talking to Dan Dastun about working out a cease-fire, but now that Beck is there with his fancy talk and his technical skills, he's backed out! He wants to give Wonder Boy a chance to do his stuff."
Dorothy said, "I don't see how Beck could impress them so much."
"Oh, if you can ignore the hair and the clothes and that idiotic cackle of his, Beck's pretty impressive. He used to be the number-one techno-crook in Paradigm. He was indispensable on any kind of high-tech job. Very well-respected in the business. When I first met him, he openly said that he was going to become
the
master criminal in Paradigm, and a lot of people thought he'd pull it off. I know I did. Even though he's way too excitable in a crisis."
"You know Beck?"
"I know all of Paradigm's major criminals. It was part of my job. Actually, I never got much information from the major figures -- they know how to keep their mouths shut. But once they've seen me sitting on the lap of the big boss, the minor crooks aren't careful about what they say around me."
She looked at Dorothy narrowly, waiting for a negative reaction. There was none.
"Go on," said Dorothy.
"Beck was the guy you had to call to get around a perfect security system, or if you wanted to open an impossibly difficult safe, or anything to do with robots. He was really, really good. He was a craftsman. Everyone treated him with respect, even deference. But then he went off on this giant-robot kick, and it all went wrong." Angel laughed. "Giant robots are not appropriate burglar's tools. Beck just couldn't understand this. Committing a crime with a giant robot is a lot like using a parade float as a getaway vehicle. It's big and it's flashy, but it's easy to track and simply isn't right for the job. Now, as a terror weapon, yes: giant robots are perfect. But professionals work quietly, and Beck likes jobs to be neat."
She paused, then said, "But the worst thing is, he doesn't seem to care about giant robots any more. He's focused on being a master criminal again. They say he's calmer. He doesn't have those idiot henchmen with him, either. He's using the Union's steadiest operatives for muscle instead. Hell, he's not even wearing yellow suits all the time anymore. Nobody recognized him at the bank jobs; I had to dig that out for myself."
She sighed. "But the
worst
thing …"
"That makes three worst things," said Dorothy.
"Thank you so
very
much for that observation. The worst thing is," and Angel looked around and then lowered her voice, "I think he's sexy."
"Beck?"
"Yes."
"With that hair?"
"Well, in spite of it."
"Those clothes? That laugh?"
"Yes," said Angel mournfully.
Dorothy was silent for a moment, then asked, "Does he know?"
Angel blushed but said nothing.
Dorothy thought about this for a moment, then said, "Let's not tell Roger. I don't think he'd take it well."
"I'm
not taking it well. I thought I was over him. Hell, I
was
over him. But it's all coming back. I'm losing my perspective. God knows what'll happen if I run into the man." She sighed. "It's not like I get along with him very well or anything." She sighed again. "I hate having crushes on people I don't like very much."
After a moment, Dorothy asked, "Is this instead of, or in addition to, your crush on Roger?"
* * *
To be continued in Part 2