| | |
| --- | --- |
| Nine Kuze | 09-21-2006 02:25 PM |
Hi.
See, I have this event called the Academy Animated Awards, or the AAA or the Nines for short. Think of it as the Oscars for anime. Anyway, this is the second year I'm holding down the event and I wanted to do a lil' somethin'-somethin' special. So I came up with the idea to have a promotional poster for the Nines.
Knowing that I would have no idea to even begin creating something like that, I enlisted on the help of my good friend Asirt (at the time, Trisa). The idea I had running around in my head was having some of anime characters interact in some action poses of something like that, mind you and I came up with this blueprint which I gave Asirt:
Amazing, no? Anyway, a while later, Asirt came up with this beauty of a number: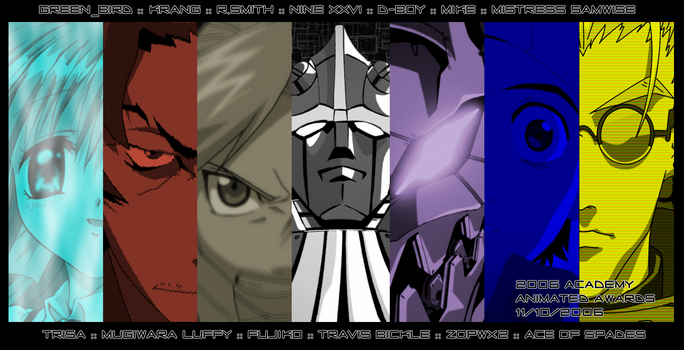 So this is the official poster of the AAA's. It's Asirt's poster and I just came up with the idea. Think of it as me being the producer and him being the director.
Anyway, I just wanted to let you guys see what it looks like and give it a better chance to shine here in the Nightingale. Its also posted in the main thread of the AAA's in the Ailesberry Forum and for the full size of the poster,
just click this link
(I really hope Asirt doesn't mean me doin' all this).
Peace.