| | |
| --- | --- |
| Nine Kuze | 03-23-2006 03:02 PM |
Actually, I have always thought that the Elric brothers were separated by one year. In the episode (I think its Dante of the Deep Forest) Alphonse said to Martel, Roa, and Dolette that was fourteen years old and at that time, Edward was fifteen.
quote:
I'm still a little confused as to why Ed first appeared in 1916 London on the other side of the gate only to end up in 1921 Germany the second time. I really don't think that 5 years have passed for Ed by the end of the series, or that he's 21. We saw him still gathering information about rockets and technology to try to get back to his world and just now leaving on a trip. I think he'd be a lot futher along in his plans/ideas/understanding of "our" world if he'd spent that much time there. At any rate, I'm pretty sure Ed is still supposed to be 16 at the end of the series.
Um, that's true Shreder and I have to agree with this. Maybe Edward is not older (like the age of 21) but he definetly seemed like it. And if he's still the same age when he crossed the Gate again, how can the time be both 1921 and Edward still being around fifteen years old.
quote:
The movie takes place two years later, making Ed 18 and Al 12.
I've seen a little something-something of the movie, and Alphonse sure as hell doesn't look twelve years old. Like, for example...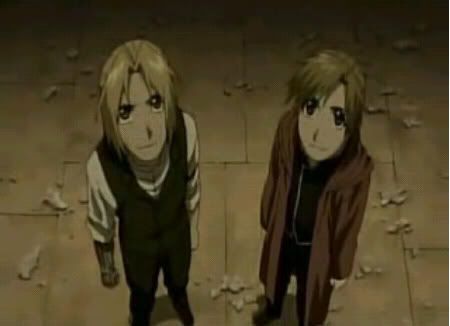 or this one...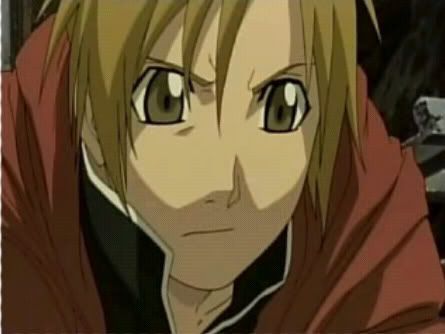 You can judge for yourself but he doesn't seem 12 years old to me.
quote:
Also, we only saw Ed in 1921; if Al is indeed younger than 17 or 18 when he is talking to Izumi, Ill take it to mean that we havent seen the 5-6 years elapse on Al's side of the gate, which puts him at 12 or 13.
That's a very good point there, Stevie. Mentioning if MIGHT not have shown the five year lapse in Al's world, but only in our world. That's rather interesting. But why the hell would they do that? As you can tell, its quite confusing.
Peace.