| | |
| --- | --- |
| Brock | 01-25-2006 07:06 PM |
Sorry if this isn't the right place, I just couldn't find anywhere else that I would put it aside from the forum with the rest of the art.
Just a small gallery of some sketches I've done, including original characters and characters from comics, anime, etc.
Hope you like some of 'em.
Raven - Chibi Raven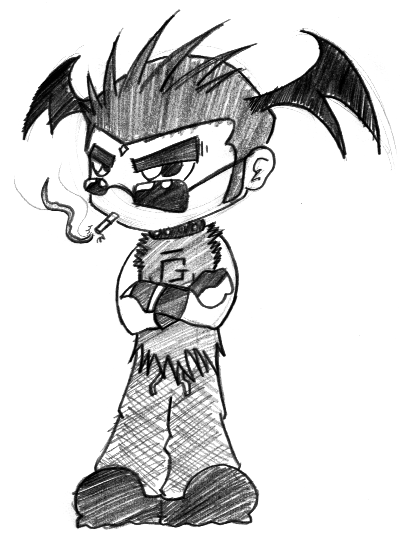 This is my avatar from Gaia Online, chibi mode. Notice that, despite how horribly cute he is, he still has a cigarette in his mouth. Thus proving: Smoking is cool, don't matter who you are. [ Just kiddin' kids. ]
- - - - - - - - - -
Raven - Mugshot
This is my avatar from Gaia Online, adult mode. No cigarette this time. This was actually the first time that I used my own fingers to smudge the penciling and give the artwork a softer look in the hair, headwings, shirt, and shadowing. I liked how it turned out so much, I used it in later artwork, too.
- - - - - - - - - -
Spawn - Mugshot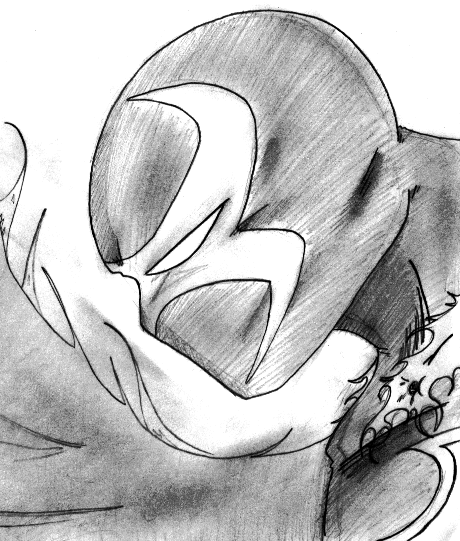 My favorite badass, Spawn, makes an appearance on my paper. The actual work was longer width-wise than shown, but I cut it off. Why? Because I can't draw 'Tattered Capes' worth shet. Other than that, I liked how it turned out, and decided to try drawing other popular characters afterwards. [ Some finger-smudging purposely added, like in Raven's Mugshot. ]
- - - - - - - - - -
The Human Torch - Annoyed Mugshot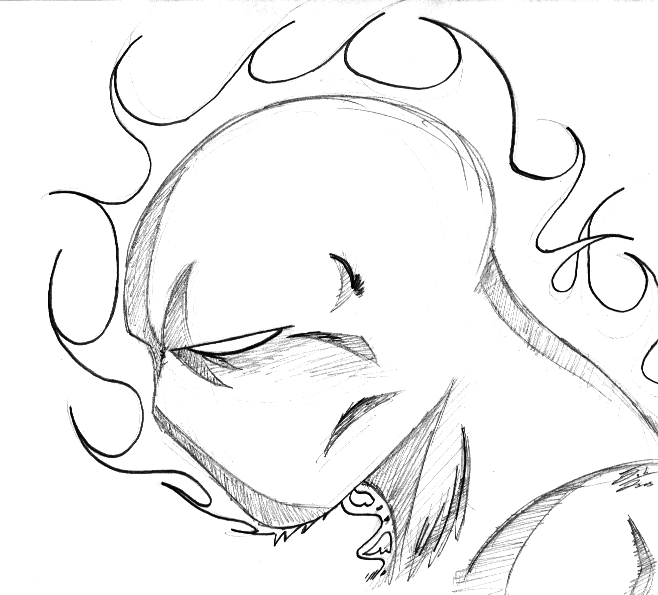 "Flame on, beetch." The ever-growing popularity of The Human Torch intrigued me, and while I was thinking about the Fantastic Four, I drew out this. Keeping in mind I can't draw fire worth shet, either, I like how it turned out. I think it might have looked better if I had done a little finger-smudging to the shadowing on his facial features, but I decided to keep it as-is.
- - - - - - - - - -
The [ Modern ] Green Arrow - Hoodie Mugshot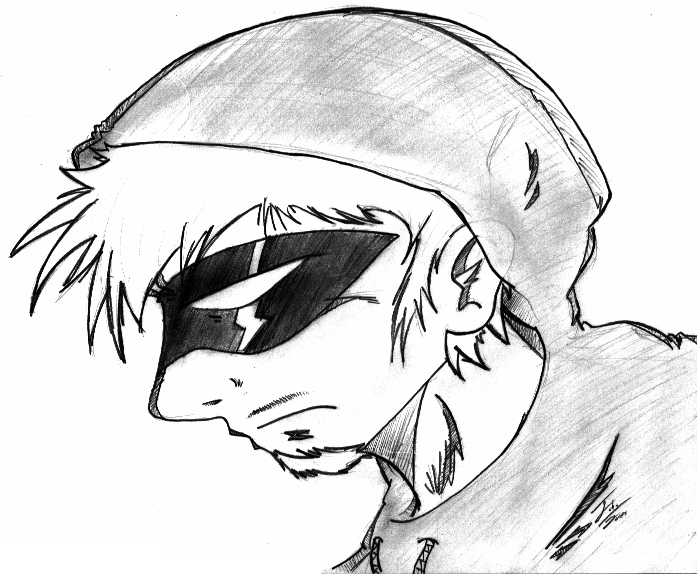 I realise the Green Arrow doesn't actually look like this.. I young'd him up a bit, and slapped on a hoodie to make him more modern. Most people might call me sacreligious for it. But then, I might call those people bigger nerds than I, eh? Honestly, I didn't feel like drawing something so elegant as the Green Arrow's feathered hat, his flowing golden lockes, or his fancy facial hair. So this came out, instead.
The Hoodie, if colored, would be green, by the way. [ Some finger-smudging purposely added, like in Raven's and Spawn's Mugshots. ]
- - - - - - - - - -
THE CRAP PILE
Artwork of mine so vile and disgusting, I had an abortion in the middle of conceiving it. Some are unfinished sketches, some are pieces that I just plain don't like. Viewer Discretion Advised.
TMNT - Michaelangelo Unfinished
Michaelangelo, tossing off a hoodie disguise and preparing himself for battle. The pose, and just most of the body, made me throw this one in the 'Reject Pile' right away.
Bugz - The Bubba of Bunnies
I don't know why. I just felt like drawing a huge fscking rabbit. While drawing, I was thinking about the Were-Rabbits from One Piece, and that weasely brown rabbit from Monster Rancher. After drawing it, however, I was thinking about the 'Reject Pile'.
Spike - The Wall Demon
I got the idea in me to draw a demon hanging on a wall, much like Spiderman is seen hanging on walls. While I like his head, the rest of Spike just didn't turn out right, so I trashed him. I might use this character in later artwork, but right now, he's a Reject.