| | |
| --- | --- |
| R.Smith | 12-26-2005 01:07 AM |
"Ripped" from
Angelic__Knight's Xanga Site
(why should I type something up that's already been?).
quote:
Take a good read in a magazine or on a discussion forum right now and you'll likely see some convtroversial talk regarding what's happening with DC and Marvel in the comic book world. The two comic supergiants never fully recovered from the near-lethal market drop during the 90's, and given recent decisions, it looks like they're getting outright desperate. While superheros are taking the silver screen by storm, fewer and fewer youngsters are checking out the comic books stands.

Marvel's marketing goal as of late has been to cater to an older audience. They're pulling some shock factor stunts to try to get their attention and reel them in, but is their latest tactic going too far? I present to you Exhibit A:



Proof that the Hulk should never become a chiropractor.



"Hey, wow, I can see my spleen!"

That's right kids, Wolvie gets ripped in half in one of the latest issues in the Ultimate X-Men series. One of my all-time favorite X-Men whom I've followed adoringly since I was a kid just got snapped like a bloody twig. I might be able to deal with this if it were a one-time kinda thing, but oh contrare --



"My Spidey sense is ting -- Oh wait, that's my empty eye socket..."

That's right folks, Spidey just got HIS EYE RIPPED OUT. Not only ripped out, but eaten. Good ol' Peter Parker, whom we've related to all too well as we've watched him secretly admire Mary Jane, get dumped, bullied, picked on, ridiculed, beat up, and grow from puny nerd to superhero...only to get his eye plucked out from its socket?!

Now don't get me wrong here folks, I'm not one of those yahoos that thinks violence in comics is evil. In fact, all should know by now that Frank Castle a.k.a. the Punisher is at the top of my list of favorite heroes --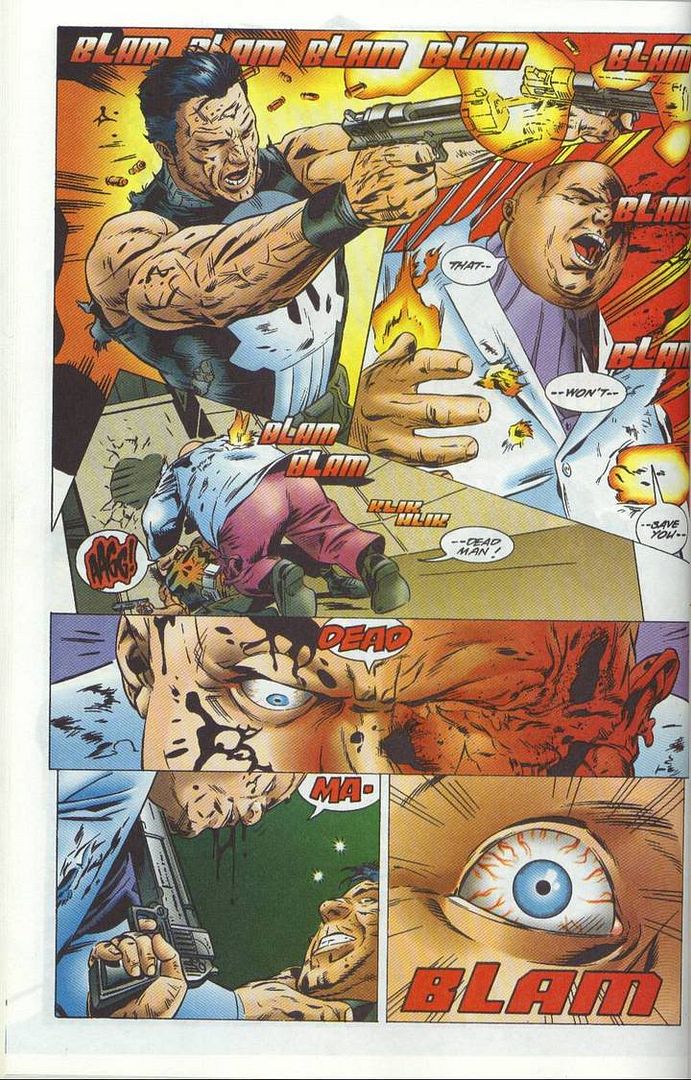 Who needs superpowers when you have a lot of really big GUNS?

But violence is part of the Punisher way, and you betcha I'm looking to see some bloody, gorey justice dished out anytime I pick up a Punisher issue.

However, when you take that level of violence and insert it into something like the X-Men or Spiderman, it's just way out of place. Spidey's always been the model fun-for-the-whole family hero, and having his friggin' eye plucked out is right up there with changing Superman's colors to black. You just don't do it. After all, I don't want every single series to be dark, angsty, and overly violent. If I'm in the mood for that, I pick up Punisher issues. If not, I read Spiderman, X-Men, or Daredevil for something a little more down to earth.

Well, not anymore, since Wolverine can now see his own spinal cord.

Is Marvel desperate to climb back up to its glory days, taking a last ditch effort to get someone's attention, or have comic book readers really become that obsessed with the angsty, dark superhero story that they've forgotten some of the lighter, brighter heroes we've grown up with?



I had better never, ever see a single organ in this guy's body exposed, or I'm gonna be REALLY ticked!

But at least there's one comic line that's staying true to its roots as its reborn...



IDW Publishing will likely be gaining a new customer very soon!
I learned about the Spidey thing while reading Jason Publick's LJ (Venture Bros. creator), and googled it and was appalled by what I found on this site.
I haven't really been following the comicbook world lately, but I can't believe that the comics are going this far. To me, this is
too
far.