| | |
| --- | --- |
| Travis Bickle | 03-12-2005 01:26 AM |
At The Drive-In is a post-punk, pseudo-emo-core band with a very unique sound. Like Fugazi, only...very different.
Cedric Bixler-Zavala - Vocals
Jim Ward - Guitar,Vocals
Omar A. Rodriguez-Lopez - Guitar
Paul Hinojos - Bass
Tony Hajjar - Drums
At The Drive-In hail from El Paso, Texas (yet all were born in countries/states), and formed in the very early 90's. Their live shows were amazing (I had the privelage to go to one of their last shows ever played), and they even tried to recreate them on a couple of their studio albums.
They broke up in 2001 due to creative differences. Cedric and Omar went on to create De-Facto (a spanish/electronica band) and then
The Mars Volta.
Jim, Paul and Tony went on to create
Sparta
, which kind of sounds like Taking Back Sunday mixed with The Violent Femmes.
Their albums are as follows (the ones in bold are the major, more well known, albums that are still in issue):
Hell Paso (EP) - 1994
Alfaro Vive, Carajo! (EP) - 1995
Acrobatic Tenement - 1996
El Gran Orgo (EP) - 1997
In/Casino/Out - 1998
Vaya (EP) - 1999
Relationship of Command - 2000
(shown below)
Relationship of Command is their last and most well known album, with tracks like One Armed Scissor and Invalid Letter Dept. . It also features a track where they collaborated with punk master Iggy Pop of Iggy and the Stooges fame.
For those of you wondering how the At The Drive-In members were distributed, I made this little diagram: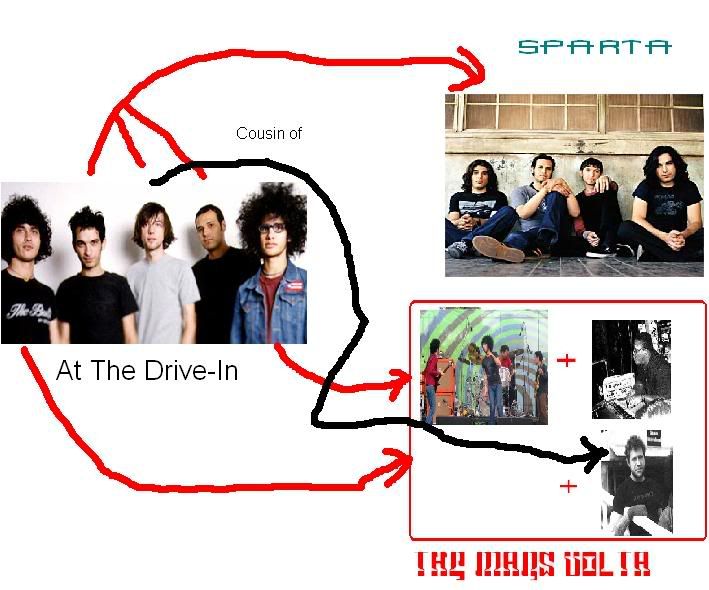 Um...anyone ever hear of them?