It's just a matter of perspective. Angel's farther back, so over all she's drawn smaller than Dorothy. As for the style; they both seem to be drawn in the same stylisitic manner that they were on the season two DVD covers.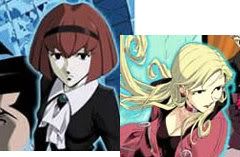 The really weird things about the image of them as seen in the episode is Dorothy's hand (which looks a lot like the style on the DVD covers) and Angel's obcessive blinking.
And from that bit of text from Konaka that Krang translated (thank you!) assuming that Dorothy could be human is a valid interpretation of that scene. Though I still think it would be a cheap trick and a hateful thing to turn her human, afterall she's never shown any desire to be a flesh and blood human while we've gotten all indication that Dorothy just as herself android and all is just as human as Roger or Angel or any of the other human characters. Besides I love her in part, and I know a lot of people do too, because she is an android.
muchlove
-Dork