| | |
| --- | --- |
| harshfire | 11-13-2004 11:27 PM |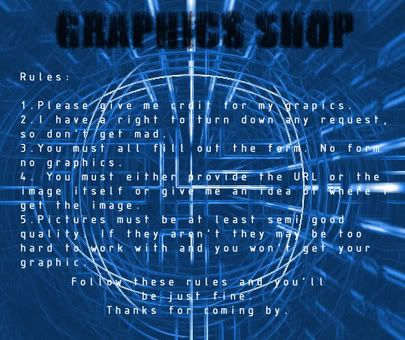 I'm not the best but yea....I willll make you a sig, avatar, or wallpaper.
Rules:
Fill out the form, make sure the sigs you request follow forum policies. Other than that, not much else. Oh, and give me the picture you want to use. I only have an hour to recieve your request, copy them down, and get the picture. It really helps if you find the pic yourself and give me the URL to it. Thanks.
Please fill out this form:
Sig or avatar or Wallpaper:
Size: (the regular size is 100x500, like my current one or the ones that go over the top are 200X500. For avatars the limit is 100x100, that's the only size I can make and no animated. I'll leave that for R.Smith-sempai. For wallpapers i need the size of your screen)
Pictures:
Text:
Note: I don't take really specific request. The most specific you can get is the size, picture, and text. I make the backgrounds and such myself, so don't get to into demanding what you want. (Demanding is such a strong word...requesting is much better)
Most of my sigs are made during night time when I am bored an no one is online or after school, so your request should come about a day or two after they're sent in. If you dont like the graphic i made you, sorry.
Edit #3: I now have a partnership with Ace of Spades, he'll make you any 3D stuff you'd like. Still post here, but if you have any 3D request, direct it to Ace. Thank you!
Later days:
JA
Edit: Here's a sample I just made:

Edit2: One more...lol.